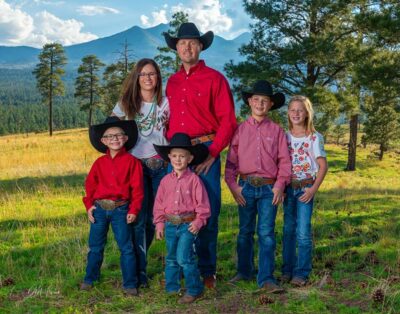 Hello! I'm Danielle Rodgers, the youngest daughter of Vic and Jamie Howell. I have lived on the Babbitt Ranch all my life. I grew up helping and working on the ranch. This includes helping both my dad and grandad, Bill Howell, with their personal cattle. I spent most of my adolescent years competing in rodeos.
I married my wonderful husband, Clay Rodgers, soon after finishing high school. Clay also grew up on Babbitt Ranch, helping as a young kid. We have been married 13 years and have known each other our entire life. We live on Babbitt Ranch with our four beautiful children, ranging in ages 6-12. They are homeschooled, which is a big job for me; but wouldn't have it any other way. We are incredibly blessed to raise our family in the ranching industry.
Bill Owen was not only an amazing western artist, he and his wife Valerie, are very dear to us. The opportunity to sell Bill Owen paintings is a great privilege because of our rich history with Babbitt Ranch and our love for western art. The majority of Bill's work is of ranchers, that we know and admire, or generations of our family. As you can imagine, Bill's artwork is very close to my heart. My husband and I have always had the walls of our home decorated with his fine paintings. I hope you enjoy it as much as we do!
I'd be glad to help you find that perfect piece. Call or send me an email anytime.