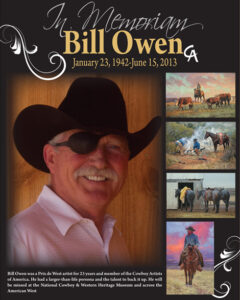 BILL OWEN 1942 – 2013
Early Days
Bill Owen was born in 1942 in Gila Bend, Arizona, to a mother who was an artist and a father who had been a cowboy throughout the early 1900's. These influences shaped his desire to be an artist and cultivated his interest in the cowboy lifestyle. Having inherited the God-given talent, it was only natural he would strive to become an artist who chronicles the lives and works of the contemporary cowboy.
At the early age of seven or eight, Bill began drawing with pastels, beginning the never-ending process of self-education in art. Later, while working on numerous ranches, he wouldn't realize until years later that those experiences provided him with subject matter for his future endeavors, and more importantly, first-hand knowledge. He knows what he draws, paints, and sculpts, because he's lived it.
Although Bill was a "starving artist" for a few years, he did not consider it to be a sacrifice. When he was accepted into a gallery in the late 1960's, he was encouraged, knowing he finally had an opportunity to make the leap to becoming a full-time professional artist, which he believed to be his destiny.
Burgeoning Success
In 1973, Bill was asked by Joe Beeler, one of the founders of CAA, if he would like to become a member of the prestigious Cowboy Artists of America. Initially, Bill declined, voicing his belief that the organization was more about partying or socializing than anything else, to which Beeler responded that was not the case; instead it was, and continues to be about the art and camaraderie between the artists. The end result was that Owen accepted Beeler's explanation and offer, becoming a member at the age of 31. In looking back, Bill acknowledges it would have been a huge mistake to not accept the invitation; membership in CAA has forever changed his life.
Since that time, Bill has earned a total of 31 medals and awards at the annual CAA Show, which is organized by Men's Arts Council and held each October at the Phoenix Art Museum. Bill has served as CAA President three times. He won the Men's Arts Council Award – Best of Show in 1975, 1977 and 1978; in the eight years the award was presented Bill was the only artist to receive it more than once. He won the CA Award in 1984 and did not repeat that until 2003, which was Bill's 30th year with CAA. This highly coveted award is decided by a vote of the active CAA members for the best body of work (a minimum of five pieces are required to be eligible), so although other CA Awards are extremely rewarding, the nods of approval from his peers this award represents are especially meaningful to him and he greatly appreciates them. Bill won the CA Award again in 2005, which was the 40th anniversary year of CAA, and for the fourth time in 2008, at which time he also won the first Traditional Cowboy Arts Association Award for the Best Portrayal of a Cowboy Subject.
Bill has exhibited at the Whitney Museum in Cody, Wyoming, the Grand Palais in Paris, France, and the Western Art Show in Beijing, China. In 1991 he was voted into the National Academy of Western Artists. In 1993 he became a member and staff artist of Rancheros Visitadores and was awarded the Frederic Remington Award for Artistic Merit by the Cowboy Hall of Fame. In 1996 the prestigious Gilcrease Museum in Tulsa, Oklahoma honored Bill as their Rendezvous Artist. Bill was the first recipient of Express Ranches Great American Cowboy Award presented at the 2003 Prix de West Invitational Show, and his most recent recognition came at the 2008 C. M. Russell Art Auction when he won the Honorary Chairmen's Award.
Giving Back
Bill has enjoyed many years of painting, sculpting, and drawing, as he has portrayed the subject matter he knows and loves. His close affiliation with the ranching lifestyle led him to form The Arizona Cowpuncher's Scholarship Organization, Inc. in 1995. He continues to be very active in the non-profit charitable organization which awards scholarships to young people of Arizona ranching families, enabling them to further their education beyond their high school graduations.
To date, the organization has approved over 200 awards totaling in excess of $300,000. While the many accolades and awards Bill has received throughout his career are wonderful testaments to his talents, the success of this organization is a personal reward. Bill is grateful to the generous artists and individuals who have donated in support of him and ACSO. That support has enabled him the pleasure of giving something back to many of the same people he has portrayed in his art: the individuals who perpetuate the lifestyle that has meant so much to him throughout his life.
Striving for Precision
Bill is passionate about his art and feels it is extremely important that he continually strives to create each and every piece of his artwork utilizing the best artistic qualities he can master. His father worked as a cowboy, Bill worked as a cowboy and many of his friends are cowboys. Due to that and the fact that he's a perfectionist, he feels a conviction, compulsion, and some may even call it an obsession that he portray the western subject accurately. Each and every detail, no matter how small, is authentic. If a piece of Bill's art shows a knot a cowboy has tied, you can count on that being the kind of knot one would use for that purpose. Some of his proudest moments are realized when a true cowboy looks at one of his pieces and says, "That's exactly the way it is!"
Bill will probably forever feel that each one of his creations is another piece of the learning process puzzle for him. Without any formal art education, Bill continues to develop his God-given talent through hard work, being observant, and learning from other artists. Two artists he credits with being most helpful throughout his career are Joe Beeler and Tom Ryan. The burning desire within Bill has been to continue to learn about technique, composition, color and design – the elements he feels must be present in a really good piece of fine art. He is incapable of feeling satisfied or becoming complacent with the knowledge he has acquired. All of these feelings combine to keep each piece of art Bill sets out to create stimulating, exciting, and fun for him. He will never be one of those artists who sit down at the easel wondering what to paint. He knows there is no way he will live long enough to paint all the paintings he envisions, and feels extremely blessed with a God-given talent that will never bore him. After all these years Bill absolutely loves what he does and knows that if he couldn't make his living at art he would still have to do it; proof-positive he's doing exactly what he was born to do.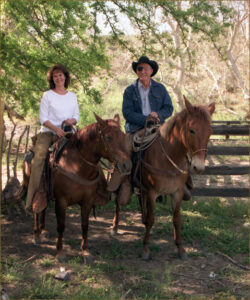 Bill and Valerie Owen on Government Springs Ranch, Globe, Arizona
Roughing It
A few years back, Bill finally fulfilled a life-long dream of owning his own working cattle ranch. Not simply for the sake of owning a ranch, but specifically so he would have his preferred subject matter at his fingertips at all times. The rough country ranch was extremely remote, without electricity, phone lines, or mail delivery, which presented Bill and his wife, Valerie, with a few challenges. They were able to solve the lack of power lines by generating their own electricity by having a computerized panel, generator, and sixteen large batteries wired in-series installed. But the lack of phone lines was the real problem. They were unable to get a cell phone signal at ranch headquarters so messages were retrieved and calls made a mile or so from home. The Owen truck truly became their office! At that time, satellite had not been developed to the point it is now, so Valerie could only use her computer as one would a typewriter. So with no phone to speak of, no email or internet, the city girl who had created and maintained her own website had stepped back in time! But Bill was realizing his dream, so Valerie was happy to settle into a new and different world than she could have ever imagined.
Government Springs Ranch was located outside Globe, Arizona and ranged in elevation from 3,000 to 7,000 feet. There were miles of dramatic variations of landscape including desert saguaro, century plants, barrel cactus, mesquite, and ocotillo nestled among very unusual and beautiful outcroppings of rock formations. There were large boulders and canyons, as well as creeks, springs, and ponderosa pines in the upper elevations. The rugged terrain, much of which could only be reached on small trails by horseback or mule, and the existence of wild cattle, some who had never laid eyes on a human, created a uniqueness found on few ranches of today's times and demanded that it be worked in the old-fashioned way.
Within the spectrum of men known to be a true "cowboy," there are only a special few left with the skilled experience necessary to meet the tasks of working in rough, brushy country, catching wild cattle and leading them in. Bill believes it is quite possible this type of cowboy will disappear within his lifetime or shortly thereafter, and why he considers them to be the true "endangered species" of our time that he feels driven to record. Bill considered himself to be a truly fortunate man to be able to pick and choose from these special few to come work roundups at the ranch, providing him with fresh, new, and endless ideas in subject matter. However, these cowboys already had jobs or ran their own ranches, and Bill soon learned that finding good, dependable, permanent help was a problem. Therefore, most of the time the Owens had the ranch they ended up working it by themselves, which kept Bill out of the studio much of the time, defeating the original intention and purpose for buying it.
Further complicating their lives, the inability to communicate handicapped their dealings with family and personal matters and made conducting business in a timely, reliable, and efficient manner virtually impossible. So in spite of the fact that they had some wonderful experiences on the ranch and will forever miss some of the beauty that surrounded them there, they sold it and moved to Wickenburg, Arizona in 2001, very happy to have all of the modern conveniences at their fingertips once again. In 2007 they realized their dream of building a home together in Kirkland, Arizona, where they hope to live out their lives.
Bump in the Road
In 1989, while practicing team roping for an upcoming rodeo, Bill survived a freak accident that resulted in the loss of sight in his right eye. At that point, many believed Bill's career in art was over. But the eventual result, in the opinion of some, was that his drawings and paintings actually improved. However, Bill soon learned he could no longer sculpt due to the loss of depth perception. From that first day, Bill never considered the loss a handicap, evidenced by the statement Joe Beeler once made, "It only gave him one more thing to joke about and have fun with!" Quite a few people can attest to that statement. Bill had to start wearing an eye patch because the pupil is fixed in a fully dilated position, allowing light and brightness in, giving him extreme headaches. So, in spite of a few people thinking its part of a "costume," the fact is, it only makes him look more western.
Back in the Saddle
Sculpture had been a part of Bill's art that he truly enjoyed, and he missed being able to turn to it when he needed to take a break from drawing or painting. During their time at Government Springs Ranch, Bill began to express feelings to Valerie of a growing desire to attempt to sculpt again. He felt as if he had adjusted and compensated for the loss as much as he could and hoped perhaps he would be able to overcome the limitations his injury had placed on him. The rigorous demands of the ranch would not afford him the time to act on this growing desire, so he was unable to learn if his hunch was correct until the summer of 2002 after selling the ranch and relocating.
As a result, Bill presented his first sculpture in thirteen years at the 37th Annual Cowboy Artists of America Show, held October 18, 2002 at Phoenix Art Museum, and it was very well received. Now that Bill Owen, the sculptor, is back, look for "The Longhorn" to be joined by thirteen years of fabulous sculpting ideas as they finally become reality.
While Bill continues to gather research for his art on numerous cattle ranches throughout Arizona and Texas, he has missed having his own ranch. Riding horses simply for the sake of riding doesn't appeal to Bill. He prefers to have a purpose when he rides. Early in 2003, he was thrilled to be presented with the opportunity to enter into a partnership in the Puro Corriente Cattle Company with his friends, Dean Cameron and Clay Tyree. As a result, Bill once again enjoys having a purpose to ride and especially enjoys the camaraderie the three partners share.
Clay Tyree is an outstanding cowboy who has been portrayed in many of Bill's pieces over the years and was one of the special few who came to Government Springs Ranch to help out during roundups. Dean was portrayed in "Desert Morning," Bill's oil painting that won Express Ranches Great American Cowboy Award at the Prix de West Show in 2003. Dean is married to an artist, Shawn Cameron, who participated in that same Prix de West Invitational Show for the first time. Dean is a long-time Director on the Board of Bill's scholarship organization and Shawn consistently supported the cause by generously donating pieces of her art to be auctioned at the fundraisers held to benefit ACSO throughout the years.
For several years Puro Corriente Cattle Company ran their cattle on the DG Ranch, located about 20 minutes north of Wickenburg. Recently, the herd was relocated to the 7-Up Ranch in northern Arizona. These ranches have and will continue to provide Bill with wonderful western scenery, and the appearance of the Corriente cattle only adds another colorful element.
Blessings Abound
After all of the experiences on Government Springs Ranch, where overwhelming responsibility kept Bill out of the studio much of the time, he now feels extremely fortunate to have wonderful friends who have made it possible for him to do what he does best while being allowed to enjoy obtaining such perfect research for his art. There's a peaceful calm at this time in Bill's life, and he feels as if he's exactly where he is meant to be. He believes he is one of the luckiest men on this earth to have been blessed with a piece of both the worlds he cares so deeply about, and feels that for now, everything is right with his world.